I don't know if I've ever been so happy to see a Friday come!! It has been a loooooooong week and I am so looking forward to a long weekend 🙂
1. Goodreads!
I had heard a few things about goodreads and decided to check it out! Basically you can find book recommendations, give book reviews and follow your friends to see what they are reading. I love to read and am so excited to find more book recommendations and see what others are reading! Use
this
link to follow me!
Currently, I'm reading
2. Popcorn Seasoning
Last weekend when we went to the movies in Henderson I discovered some new popcorn seasoning that I fell in love with! Just another thing that makes the theater over there better than ours! I was so excited when I found both buy ultram 50 mg online of them in Kroger the next day! I LOVE popcorn and these seasonings make it extra good!
3. Smoothies
I LOVE strawberry smoothies! Now that it's summer I'm super excited to make them and they are perfect for breakfast or lunch on the go! So easy to make and healthy 🙂
My Recipe:
1 Cup Strawberries (I buy the frozen)
1 Cup Milk
1 Scoop Whey Protein (really filling!)
1 Kroger Carbmaster Yogurt
I buy the individual carbmaster yogurt instead of a big container for a couple of reasons. It's one less spoon to dirty up because you can just open the container and dump it in the blender! It's just easier to deal with. Also, I buy different flavors (blueberry, strawberry, vanilla, etc) so that I can change up the flavor!
4. The Bachelorette
I am so excited that The Bachelorette is back on! I can't help it, I'm just addicted to this show 🙂 I'm going to be recapping each episode on my blog on Tuesdays this season so if you're a fan of the show please check it out! You can see my blog of episodes 1 & 2
here
!
5. Music
I've been in such a music mood lately and thought I would share some of my current favorites with you all!
Sawyer Fredericks – Please
He just won the voice and if you're a Ray Lamontagne fan you will love him! (He wrote this song)
David Guetta – Hey Mama
So catchy!
Joshua Davis & Sheryl Crow – Give It To Me
Loved these two singing together & this song!
Hope everyone has a great Memorial Day weekend!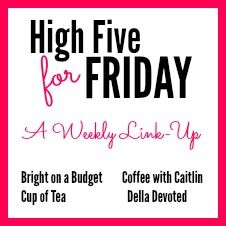 I love to hear any comments, tips or thoughts anyone likes to share so please comment below!
Also, follow me here to see more of our daily lives:
Enter your email on the right in the Follow By Email box and get an email update anytime I post on the blog!
Thanks for reading!!